Good to know !
Nowadays, more and more energy is consumed by lighting. In Switzerland, it represents about 15% of the whole electric consumption.

Large energy savings can be made. A plan to progressively withdraw from sale the incandescent bulbs and some halogen bulbs is in hand and will end in 2016.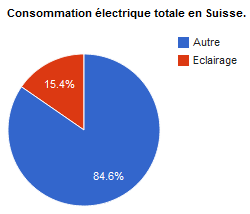 Why should I change the bulbs in my house?
To save a very precious and expensive energy
To reduce my electricity bill
If the first point is obvious, the second one is not. In fact, the change requires to buy new generation bulbs that are 5 to 15 times more expensive than our old incandescent and halogen bulbs.
If you aren't convinced yet, use our calculator. It will produce some interesting results. You have to define the following parameters :
The number of bulbs
Tthe number of years
The category : standard bulbs, spotlights or lightning tubes
The wattage
The average hours of use a day
Led or fluorescent bulbs ?
Fluorescent
LED

Long lifespan
Does not overheat

Low energy consumption
Does not overheat
Shock-resistant
Long lifespan
Dimmer system
98% recyclable

Contains mercury
Does not withstand temperatures below zero
Long time for the light to come on
Can glow
Moderate purchase price
Received ideas about LED bulbs
We spend a lot of energy to make them.

The manufacturing of LED bulbs represents only 5% of their whole energy consumption.

They generate electromagnetic pollution.

The light-emitting diodes use an almost direct current. Some measurements made by the EPFZ demonstrate that LED bulbs emit radiations so low as incandescent bulbs.

They do not withstand dimmer switches.

Nowadays, most of LED bulbs withstand dimmer switches. If they do, a symbol is printed on the packaging.

They are sensitive to on/off cycles.

Unlike most bulbs, the LEDs are not sensitive to this parameter.

They do not heat up.

In relation to other bulbs, the heat emission is insignificant.
So, why LED bulbs ?
They will last 5 to 10 times longer than other bulbs.
They consume 3 to 4 times less energy.
They do not contain mercury nor fluorescent powder.
LED bulbs are a good alternative to fluorescent bulbs because their major problem is recycling. However, 98% of LED bulbs components are recyclable.
If you are not convinced yet that LED bulbs are better than fluorescent bulbs, we propose watching this documentary made by "France 2".
Must I change immediately ?
You must replace classic and fluorescent bulbs with LED bulbs. You should begin with the bulbs in the kitchen, the living room and the study.
In other rooms, for example the cellar, the attic and tiny room, it is not necessary to invest money. It is better to keep the bulbs until they burn out and replace them with LEDs.
What do I do with worn out bulbs ?
In Switzerland, the recycling of some bulbs is subject to OREA.
All the bulbs, except the incandescent bulbs (classic and halogen) are concerned, that is to say :
Fluorescent bulbs
LED bulbs
Lightning tubes

The incandescent and halogen bulbs can be eliminated with the domestic rubbish.
If a crossed out recycle bin is printed on the bulb cap, it means that you shouldn't put it in the bin.
Le mercure est un métal très toxique. En cas d'intoxication, il affecte principalement les fonctions cérébrales et rénales. Il peut également induire ou co-induire des cancers. Récemment, on a découvert que le mercure altérait les cellules souches du système nerveux central.
Des vapeurs de mercure sont contenues dans les Tubes fluorescents et ampoules fluocompactes. De nouvelles technologies permettent de diminuer le taux de mercure mais il est impossible actuellement de se passer de ce dernier pour ces types d'ampoules.
En cas de casse
Si un tube ou une ampoule se casse, il faut impérativement suivre les instructions suivantes :
Ne pas paniquer. Il faut rester calme pour contrôler la situation.
Coupez les éventuels systèmes de climatisations (VMC) afin de ne pas diffuser les vapeurs de mercure.
Si l'ampoule s'est cassée dans un luminaire, coupez le courant de ce dernier.
Aérez la pièce pendant 15 minutes
Rassemblez tous les morceaux de l'ampoule en balayant, attention à ne pas utiliser l'aspirateur car il permettrait de répandre les vapeurs dans la pièce ainsi que de le contaminer.
Ramassez les éclats de verres avec des gants pour ne pas vous couper.
Placez tous les débris dans un conteneur hermétique.
Continuez la ventilation de la pièce pendant plusieurs heures.
Jetez les morceaux dans les déchets ménagers.
×
Tableau d'équivalence des puissances.
| Incandescente | Halogène | Fluocompacte | LED |
| --- | --- | --- | --- |
| 25W | 15W | 5W | 1.5W |
| 30W | 20W | 9W | 3W |
| 50W | 35W | - | 4W |
| 65W | 45W | 11W | 5W |
| 75W | 50W | 15W | 6W |
| 100W | 65W | 20W | 9W |
| 120W | 75W | 23W | 12W |
| 150W | 100W | 30W | 14W |
| 180W | 120W | - | 20W |
×
Graphique pour une ampoule...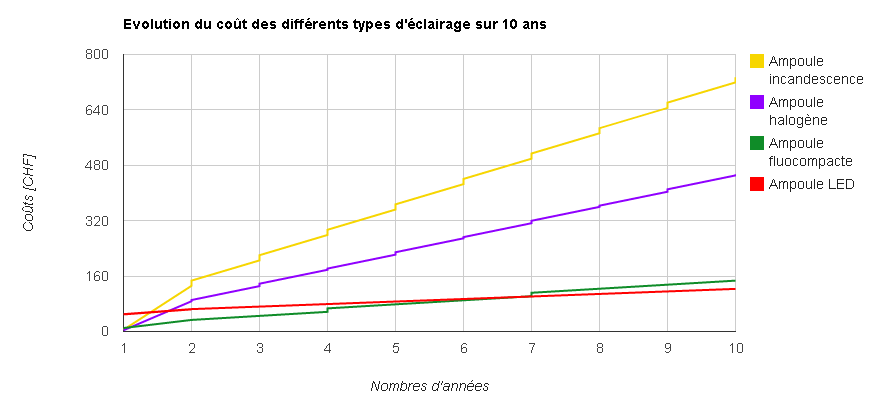 ×
Tableau des coûts et consommations pour une ampoule sur dix ans.